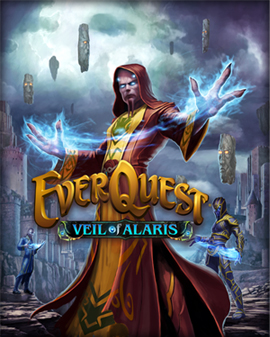 Welcome to EverQuest® Veil of Alaris™! This expansion is the eighteenth expansion of the groundbreaking EverQuest franchise. Now in its unprecedented thirteenth year, Veil of Alaris continues to add immersive gameplay, captivating storytelling and exciting worlds to the EverQuest legacy, now set in a never-before-seen land full of mystery and adventure. Veil of Alaris offers an expansion rich in content with an entirely new continent to explore. Don't miss out on the Guild Halls that you can use in your housing neighborhoods, brand new to this expansion.
Go from 90 to 95 – Achieve a New Max Level of 95 and set a new standard of gameplay

Improved Hotbars! – Have better control of your characters experience with a revamp of the Hotbar system including the ability to display more hotbars with more buttons; assign icons to individual buttons; link and click on items from your hotbar instead of hot-swappping; and cool-down timers!

Parcel & Coin Delivery system – Mail items and coin to your friends while they are offline; share profits from your adventures with your friends and receive items from them easier than ever before!

New Guild Halls – Take Guild Halls to new heights with an integration of Tools and Functionality derived from EverQuest's robust Housing System. Customize and place your guild hall in one of our housing zones including multiple exterior and interiors.

New Guild Rank-Based permission system – Personalize your Guilds with namable ranks and customizable permissions.

New Guild Trophies with varying bonuses!

More than 800 AAs – Elevate your power and abilities beyond the norm.

13 Raids – Collect valuable rewards from all new adventures.

12 Zones – Be the first to discover untouched lands of Norrath.

500+ Spells – Exponentially add to your spell arsenal.

20 Missions – Experience intriguing lore and immersive Missions.

110+ Quests – Challenge your skills and gather useful loot.

Legends of Norrath™ - 5 Digital Booster Packs.
| | | |
| --- | --- | --- |
|   | Standard Edition | Collector's Edition |
| Desert Kangon Saddle | | |
| Traveler's Rucksack | | |
| Painting: Veil of Alaris | | |
| Journeyman's Pocketed Rucksack |   | |
| Forest Kangon Saddle |   | |
| Swinetor Contract |   | |
| Concept Art Painting #1 |   | |
| Concept Art Painting #2 |   | |
| Sentry Stone Replica |   | |

Already got the Standard Edition? Just buy the Collector's Edition Upgrade to get the additional Collector's Edition items without paying the Collector's Edition price!
Only customers who have purchased the Standard Edition can purchase the AoD Upgrade.