Community News - March 2012
EverQuest is now Free to Play. Your Way. ™
03-16-2012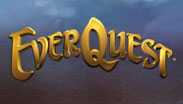 We are proud to announce the launch of EverQuest Free to Play. Your Way.™
We warmly welcome back current, returning, and new players alike. Log in to EverQuest today and join in our 13th anniversary celebration!
To mark the occasion, we are granting everyone a Welcome Back Pack to enhance your game play experience. You will also find in-game bonus experience, increased rare mob spawn rates and items on sale in the Marketplace through Saturday, March 31st. Special anniversary items have also been added: Lucky Mitosing Coin, Salve of the Long Dozen and Pizmip's Prize Purveyor. Check these items out on the Marketplace before they are gone on Sunday, April 1, 2012.
To mark this occasion a new server has been added: Vox, a new server with the standard rules set. Want to start fresh? Check out Vox today!
Visit Sam Napth in the Plane of Knowledge for information about the anniversary events in-game. Stop in and check out the anniversary activities before they are gone until next year!

Happy Birthday EverQuest! See you in-game!