The Test Server is updated frequently with changes, new content and new features that may or may not make it to the live servers. Playing on Test Server not only gives you a sneak peek at possible upcoming features, but it also helps us when players test them out and give feedback to developers so issues can be tweaked and fixed before they go live.
Here's a quick guide on getting started on Test.
When you're playing on the Test Server, it's a good idea to create a second EQ Directory/Folder. This will prevent you from having to repatch the game every time you swap between playing on normal servers and Test Server.
In File Explorer, select This PC, then navigate to your EverQuest directory. The default install location is C:\Users\Public\Daybreak Game Company\Installed Games\EverQuest.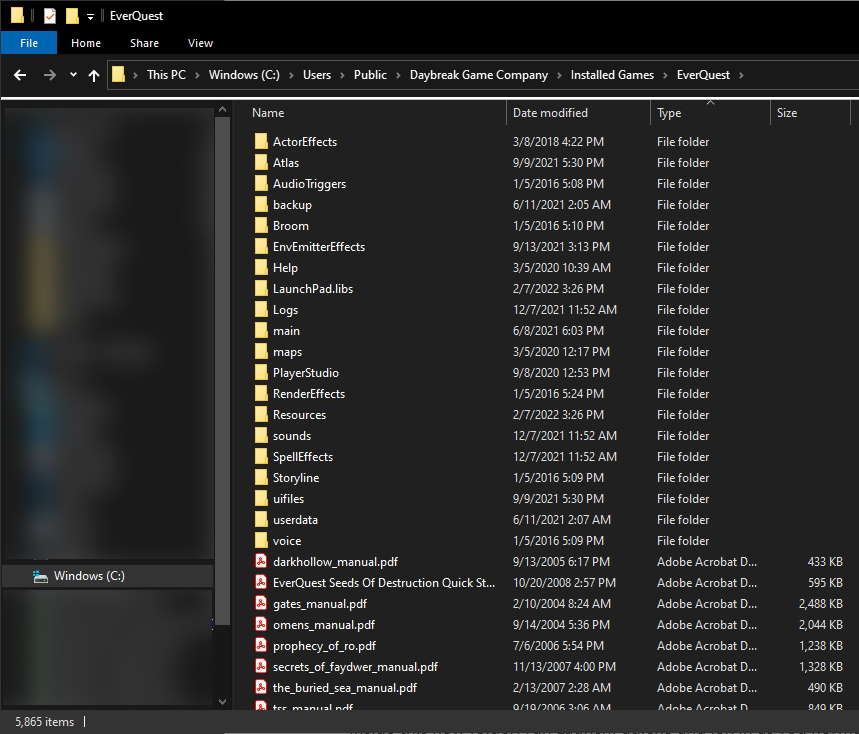 Inside the Installed Games folder in the Daybreak Game Company folder, you should see an EverQuest folder. Select the EverQuest folder and right-click and choose Copy (or press Control+C). Right-click inside the folder again and choose paste (or Control+V) to paste a copy of it into the Installed Games folder. The new folder should name itself EverQuest Copy or something similar. This will take a few minutes to copy over.
Once the EverQuest Copy folder is inside the Installed Games folder, you can rename it. We suggest that you rename it TestEverQuest, to keep it easily identifiable.
Inside this new folder, run LaunchPad.exe and log in as you normally would for a Live server. Once LaunchPad has finished checking your EQ files, on the left side click Advanced Tools. A detailed pane will pop up – on the left side, click Select Game Version. There will be a dropdown from which you can select Live or Test. Select Test and click Apply. LaunchPad will now check files for the Test version of EverQuest. Once finished, click Play and you will see Test on the server select screen.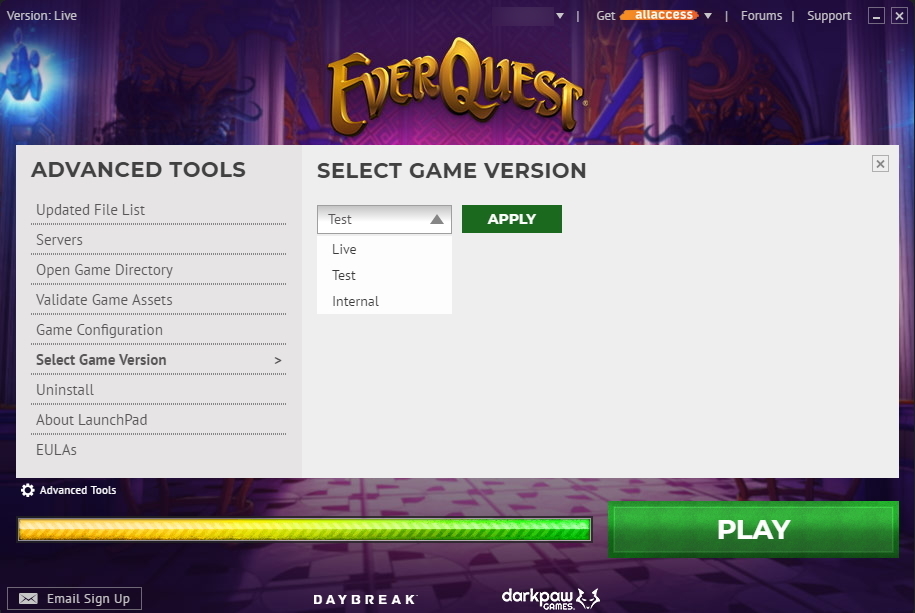 If you plan to come back to play on the Test Server frequently, go ahead and make a shortcut to your Test folder version of LaunchPad.exe on your desktop or menu for easy access.
Double click LaunchPad.exe or your shortcut to open the launcher. After logging in, it should automatically begin patching the latest game data.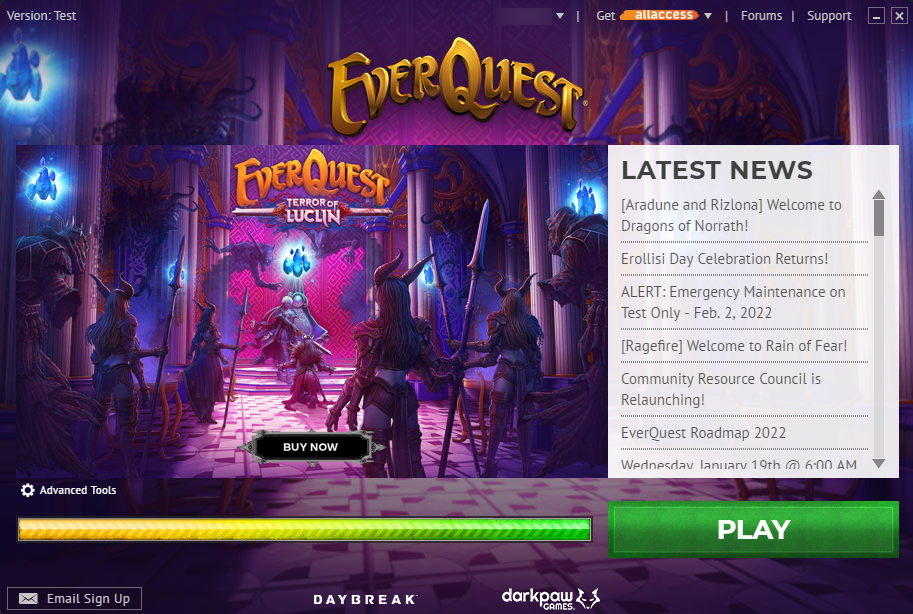 While you're patching, be sure to look over the most recent Update Notes in the patcher. You'll see a list of the newest updates and features available for testing. If you find any bugs while playing on Test, please report them on the official bug reports forum. If you find a bug you think is specific to the Test server, or is related to a recent Test patch, please report it in the latest Test Update Bugs thread. Bug reports allow us to collect, properly categorize, and track bug report information in a bug database.
Once patching is complete, log in to the Test server and create a character. Then simply enter the game and start playing. You will begin in the tutorial zone, The Mines of Gloomingdeep.
You will need to complete the short Jail Break quest to leave the prison area, and then you may either walk through the tutorial quests or exit Gloomingdeep through the Escape Tunnel.
After leaving Gloomingdeep and entering Crescent Reach, you can automatically level your character up and skip progressing through the first 24 levels. Type /testbuffme, and your character will be leveled up to 25 and will be provided with suitable items for your race, level, and class.
If you have a character on a Live server you'd like to play on Test, you have the option of using the /testcopy command. The /testcopy command can be used by characters on a Live server every 8 hours to copy your character to the Test server.
Once you've started playing on the Test server, be sure to stop by the official EQ forums to leave feedback and participate in discussions.
A hearty thank you goes out to all the players who help test our exciting and upcoming content.