The members of the Noble Exchange have whispered rumors about a particular shady swashbuckler for years, and Marcia Attamilgad stands by the claim that she's the only person in Norrath who can get a hold of the rare items she sells. Even so, the next few weeks of summer are shaping up to be a bit... shadier than usual.
From Wednesday, July 25, 2018 through Wednesday, August 15, 2018, Marcia will be peddling her wares faster than ever!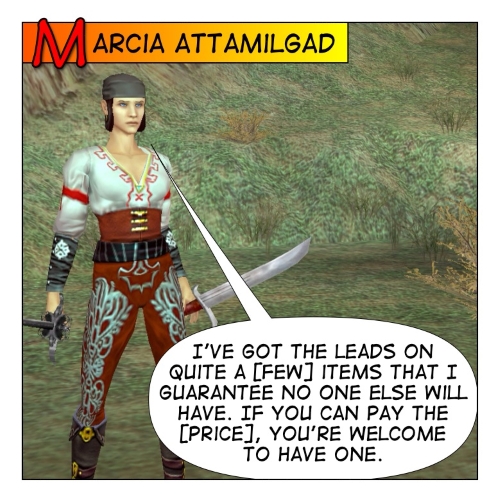 During the next 3 weeks, the traveling vendor will be moving about Norrath much more often than usual, and will have 4 different items available at a time! You'll have to be a bit quicker than usual if you want to track her down, but she'll offer you many more opportunities to purchase rare and coveted items that have long disappeared from Norrath.
You'll have more chances than ever to purchase Marcia's treasures - but are you willing to make offers that will be worth her while?