Hail, Norrathians! The denizen's of Velious need thy assistance once more! Rumors of living ice infecting creatures, stories of undeath, and the return of giants require attention. Head forth and arm thyselves!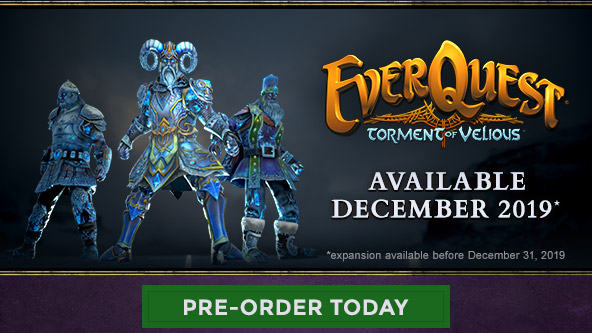 EverQuest: Torment of Velious is scheduled to launch in December but if you simply can't wait, you can pre-order the game's 26th expansion right now at www.everquest.com/expansion-content! There are four versions of the expansion that you can choose from:
Standard Edition ($34.99 USD)
Collector's Edition ($89.99 USD)
Premium Edition ($139.99 USD)
AND NEW THIS YEAR!
Friends & Family Edition ($249.99 USD)
And don't forget - If you're an All Access member you'll also get 10% off the cost of the expansion!
All editions of the expansion include:
Access to ALL previous in-game expansion content
Beta Access for Torment of Velious
Plus, if you purchase the expansion during the pre-order period, you will also get another special item:
Pre-Order Bonus: Shared Goblet of Adventure II - 25% 8 hr Experience Bonus, Group
The Collector's, Premium, and Friends & Family Editions of the expansion also come with a variety of other special items, which you can view here.
Adventurers, Velious needs you once more it's time to return! - Pre-order EverQuest: Torment of Velious today!