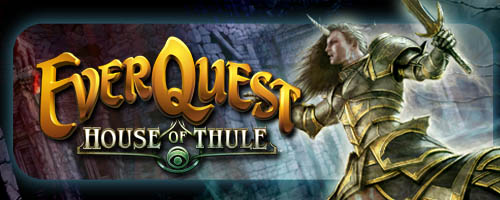 House of Thule - Living Portrait
Forum Challenge
The Challenge: Sony Online Entertainment will be hosting the "House of Thule – Living Portrait" Forum Challenge for EverQuest. Using in-game imagery through screenshots or modified screenshots, or original artwork, EverQuest community members have this opportunity to depict a visual representation of the House of Thule expansion. The images can depict any of the House of Thule areas.
Images declared as winning submissions will be turned into in-game house paintings for the winners. The paintings will appear in the February or March Game Update and will be available for others through a merchant.
Duration: Submissions for this forum challenge will be accepted from Thursday, December 9, 2010 at 10:00 am PST until Friday, January 7, 2010 at 10:00 am PST (US Pacific Time). (PST is -8 hours GMT: 11:00 a.m. MST, 12:00 noon CST, 1:00 p.m. EST, 6:00 p.m. GMT, 7:00 p.m. CET)
Winners will be announced on or around Friday, January 14, 2011.
Rules and Submission Details: Before submitting an entry, please review the Official Forum Challenge Rules and the additional notes below:
Images submitted must be in the form of EverQuest screenshot or modified EverQuest screenshots without copyrighted materials included, and/or original artwork. Do not submit any images that are copyrighted or those that belong to someone else. Potential winners will be required to sign a release form regarding the ownership and usage of the image.

Do not include any text in the image. If using screenshots character names and NPC names should be turned off in the image. All UI elements must also be turned off including names and target rings.

The final image will be 400 x 512 or 512 x 400 in pixels. All submissions must either be one of those two sizes or have the ability to shrink down to one of those sizes without distorting the image.

The image needs to be in bitmap (.bmp) format. Due to the potential file size of the image, you can upload the image simply send the link in the e-mail but you will need to make sure that we can download the full version.

When planning your image keep in mind that the borders of the images may be cropped when they are converted to game art so do not included important details along the borders.

You are only permitted to submit one image. You are permitted to submit updated versions of your image throughout the submission period. The version we like the best will be considered.

Finalists will be required to sign an Affidavit and Release statement before being declared a winner.

If your submission does not conform to these requirements, your entry may be disqualified or you may be asked to resubmit.

SOE reserves the right to reject any and all submissions.
Submissions should be sent in an e-mail to SOEContests@soe.sony.com. Be sure to include all of the following required information with your submission:
Subject of Email: EverQuest "House of Thule – Living Portrait" Forum Challenge
Real Name:
Forum Community Handle: (if applicable)
E-mail Address:
In-Game Character Name and Server:
Submission Title: (What you call your image.)
Description: A 200 word or less story or description your image. Note: This description will be used to highlight the image and may be used as an in-game description.
Image: Attachment or Hyperlink to where the file is hosted - All files externally hosted must be made available to download.
The Selection Process: When viewing the entries, the panel judges will use a 0-100 point scale, with 0-35 points for originality, 0-35 points for creativity, and 0-30 points for thematic content consistent with the boundless possibilities for adventure within the world of EverQuest (including storylines, characters, cinematography, special effects, editing and/or the embodiment of the EverQuest adventuring spirit).
Reward:
First Place (up to 10 winners): The top 10 entries will be made into in-game paintings for homes. Each of the winners will receive each of the winning paintings.

Honorable Mentions: Other submissions may be selected as honorable mentions. Those selected at honorable mentions will only receive recognition on the EQ Players website, forums, and other sources of news.
Feedback: Feel free to offer your feedback on the submissions of others. We enjoy reading the comments on entries for these challenges just as much as the entries themselves! Just remember to be constructive.