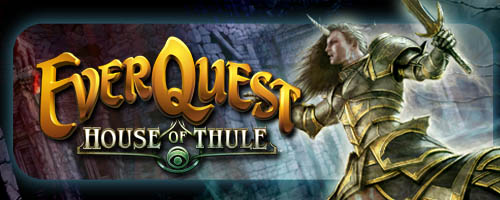 House of Thule - Living Portrait
Forum Challenge Winners

In December 2010, to celebrate the launch of the EverQuest House of Thule expansion, Sony Online Entertainment hosted the "House of Thule – Living Portrait" Forum Challenge for EverQuest. This challenge gave EverQuest artists a chance to show off their skills while also giving them a chance to get their art transformed into an in-game house painting!

After reviewing all the submissions, we narrowed the pool down to four winning images.

First Place

Congratulations to the First Place Winners!
Terris-Thule

Artist: Adiene of Bristlebane
Forum Handle: Ravea

Description: The Demi-goddess Terris-Thule transforms dreams into nightmares along her path to become victorious in the battle brewing within the House of Thule!

Morell-Thule

Artist: Dkelf of Antonius Bayle
Forum Handle: krisrea

Description: Morell-Thule stands alone in his realm of dreams, "what new dream realms shall I conjure up" he muses to himself.

Fier`Dal Memories

Artist: Rolaque of Bertoxxulous
Forum Handle: Rolaque

Description: Two wood elves stand front of their house in Elm Woods. Woven through their lives are memories of new experiences. "It has all happened… or has it?" as doubts creep through their minds. "Was it all a dream of things to come?"

What Dreams May Come

Artist: Innania of Drinal
Forum Handle: Zanderon

Description: As sleep takes Innania, strange visions fill his head. Some of the images are strangely familiar, but at the same time twisted. Others are beyond even his wildest dreams -- and greatest nightmares!

Honorable Mentions

We also wanted to recognize a few honorable mentions amongst the submissions. While these submissions will not be rewarded, we still wanted to share them with you!
Welcome to House of Thule
Nytedesyre Vierus of Antonius Bayle
The Color of Life
Airykuh of The Rathe
Me, Myself, and I
Wildeone of Bertoxxulous
Fear Me Not
Frostfox of Cazic-Thule
Larger than Life
Candydare of Drinal
Into the Unknown
Quarken Xired of Drinal
Into the Fire
Reprisal of Antonius Bayle
The winning portraits will be made available through a merchant within the March or April Game Update. The First Place winners will receive each of the paintings and everyone else will be able to purchase the paintings from a vendor. We'll provide more details as the update gets closer.

Thank you everyone for participating!