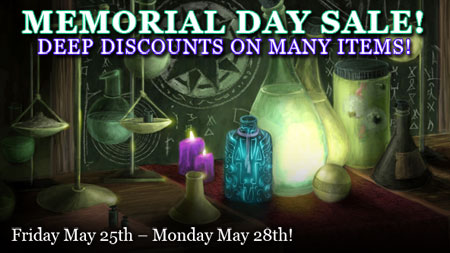 Need a change of scenery and want to know what life is like on another server? How about a change of race, to make that old character seem new again? Do we have a sale for you!
Starting on Friday, May 25, 2012 at 4:01 am Pacific* and lasting until Tuesday, May 29, 2012 at 3:59 am Pacific, we're having a sale on Services and Bottles of Adventure III in EverQuest! There are tons of timely options in the Marketplace; whether you are enjoying the Double Experience Weekend and want an increase in your Alternate Ability Cap or just need a new Character Slot, there's sure to be something you want in the Services category. And to maximize your experience gains during the Double Experience Weekend we offer Bottles of Shared Adventure III so your entire group can get a boost!
See you all in game!