This month's Get to Know a Dev is all about Designer Chris "Dzarn" Black!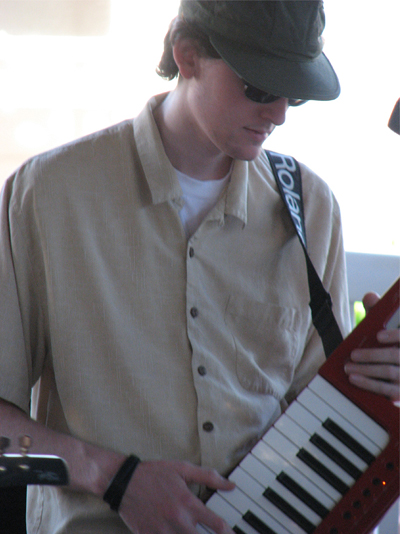 Feel free to bring this picture up again and again for the rest of Dzarn's life
An all too terribly long "conversation" with Dzarn:
You find yourself traversing down a long corridor. The sunlit day you have just abandoned has no hold on these halls. You navigate by way of flickering lights that dance along the ground ahead of you. Your steps are small to avoid tripping, until you think you've reached your destination! A soul-wrenching grumble makes you think twice. You walk down the hall a bit further.
The flickering light of a small desk-lamp overhanging the gentle glow of a monitor heralds your arrival. You find a figure sitting comfortably in a chair seemingly entranced by a splendid cacophony of text that litters his screen.Three overlapping documents detail the life history of one Claire Nybright, the details of Solusek's assault on Tunaria, and the short beginnings of a seemingly autobiographical treatise.
Hail, Dzarn.
The figure turns and speaks, 'Greetings traveler, pleasant formalities aside you can call me Chris. Short of course for Chris "Dzarn the Efreeti Ambassador, Leader of Doljonijiarnimorinar's Fan Club" Black. I don't often meet travelers around here, so I would be happy to [chat] if you're interested.'
Chat
What Chat?
Who Chat!?
Why Chat!??
I would be happy to chat!
Chris says, 'Excellent, friend! What interests you? [History], the [present], or perhaps my [hobbies]? I would be happy to answer any questions pertaining to the above or any other questions for that matter.'
What history?
The developer smiles and nods before leaning back in his chair to think, 'Hmm, where to begin…' A moment passes before his introspective expression changes to one of applied certainty, 'I would say the relevant story begins around eleven and a half years ago when a young lad whose daily regimen of gaming moved from the classics to the modern. An appreciation for fantasy and love of sixteen-bit orchestration led me to be an avid fan of Squaresoft titles.'
The figure continues, 'It was likely two or three weeks before December 13th, 1999 that a companion of mine introduced me to this novel world where elves wage war against their mortal enemies the orcs. A world where adventurers could band together to make daring voyages across oceans or simply wade around a quiet lake in a humble rowboat. I was immediately entranced, this living breathing world would become my love. I would study its lore, learn its rules, and strive to become a master of its challenges.'
The figure laughs, 'Ah that went on for many years, coinciding (and sometimes conflicting) with the time I was required to spend "studying". My academic endeavors did of course pave the way to my newfound employment. It was about two years ago I saw a post online that SOE was looking for a summer QA-intern. I leapt at the opportunity and prepared tirelessly for the interview. After a seemingly brief phone-call, I was counting the hours. It was just a day later I received word that they looked forward to seeing me in 3 weeks!'
The figure looks up, attempting to recount some trivial details, 'Fate was kind to me that summer, in that I found residence and have a wonderfully supportive family. I made the trek down, three-hundred miles south of my hometown, and spent that summer in San Diego. I was introduced to a great team of people and went to work on something familiar yet foreign, EverQuest II. Not that I didn't appreciate the opportunity just to be at my metaphorical Mecca, but it didn't seem right that I was working in a world split apart with Druzzil's interference.'
The somewhat oblivious developer laughs as he surveys your expression, 'Ah, forgive me. I all too often break into monologue about these tangential things. I will continue with a better attempt at focus...'
'It was a few weeks into my internship that I got to work on EverQuest proper. I scoured the depths of the Underfoot seeking out "geo" bugs and collecting player reports on the latest problems. I was even lucky enough to have worked with Nendiun (the summer developer intern that year) on some projects. I have fond memories of my work, but more prominently my team. My heartfelt thanks goes out to everyone for their hospitality that summer. That is the majority of what I would call "history"...'
Hail, Dzarn!
… [History], the [present], [hobbies] …
What present?
The unnecessarily verbose figure nods and continues his story, 'Well, following that summer I returned to academia with a sense of melancholy. I kept a watchful eye over the job postings board the following summer until the day I saw another internship opportunity. This time however, it stated "developer".
'I saw this as my golden opportunity. I practiced and prepared for my interview tirelessly. Thankfully the interview went well and I was instructed to write up a story for a quest. I chose to write about the love and loss of one Captain Rohand of the Mermaid's Lure. The quest expanded upon the significance of the painting that hangs in his shop… I was in luck that Ngreth didn't dismiss my longwindedness as unmanageable, but instead offered me the summer to assist the team as an intern.'
'I can't imagine it was long into my first month before he began to doubt his decision though. My endless love of Norrathian history left me behind on most tasks others would finish with reasonable haste, as I tended to expand where not particularly necessary.
If I had to summarize my job briefly I would say, 'it has literally been what I've wanted to do since I was twelve years old.' I echo the sentiments of my colleges in saying that there's not a day that goes by where I would rather be doing something else. I suppose that's all I can say about the present.'
You blink a few times, realizing that you've not really listened to the last half hour of the figure's rambling. You struggle to remember the third bracketed word in his original dialogue…
What hobbies?
Ah well, aside from the countless days I've spent travelling Norrath, my loves are music, animals, and over-competitive nights of PlayStation with friends. I spend many weekends travelling back home to play keyboard with "The Usual Suspects" . I always enjoy visiting and getting to see my beloved house pets. My family has been lucky enough to have had three wonderful Dalmatians (originally one, then we adopted a second and those two gave way to two litters, one of which we kept and is still with us.) Those who have travelled through the new Feerrott have likely crossed paths with the virtual personification of my pets. You can try asking them to "sit" or telling them that their "food" is ready. You might get a reaction from them.
The familiar growl of hunger begins to set in as you realize you've spent all too many of your precious daylight hours in this dimly lit cubicle. The developer smiles and nods, sharing the understanding that both of you have work to be returning to. You retrace your steps and emerge victorious in your quest. The exit door opens revealing the setting sun over the beautiful San Diegan landscape. The picturesque scene lays closure to your curiously one-sided conversation.
You stop to think if there was [just one more thing you wanted to ask?]
So now that you know a bit more about him, let's get started with the questions! Please post your questions for Designer Chris "Dzarn" Black to the appropriate thread on the forums. Submissions will be open until 11:59 p.m. Pacific on December 18, 2011, at which point we will select the best questions and have Get to Know a Dev Presents: Designer Chris "Dzarn" Black answer them! The results will be posted on the forum and website.
Let the questioning begin!