The Mount Key Ring is an exciting new feature included with The Darkened Sea! On accounts for which you've bought The Darkened Sea, you'll be able to free up some of your precious bag space and easily locate your favorite mounts with this handy mount storage location. In addition to this, you'll be able to assign a "stat mount" to receive the stat bonuses from, while keeping the appearance from another mount.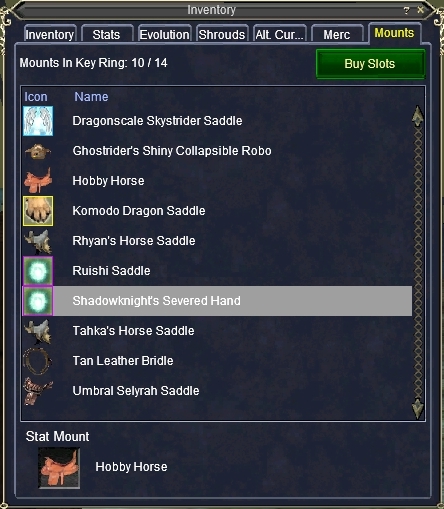 So, if you love the stats on your Hobby Horse, but prefer the appearance of your Shadowknight's Severed Hand, it's no problem! By allowing separate stat and appearance mount settings, the Mount Key Ring gives you more ways to customize your ride in-game!
Each character will start with a Mount Key Ring that has ten mount slots. Fill these up with some of your favorite mounts! Do you have a really large collection of beasts at your command? Don't worry, because additional Key Ring slots can be purchased from the Marketplace as extra storage space for your four-legged friends. Additionally, if you want to switch the mounts stored on your Mount Key Ring, you can easily add or remove mounts just like any other inventory space you have access to. This gives you the flexibility to always be just a call away from your most trusted companions.
But wait, this magical Mount Key Ring also has another exciting feature! Mounts purchased from the Marketplace will have their own slot on your Mount Key Ring. You will automatically receive an additional mount slot whenever you add a Marketplace mount to your Mount Key Ring. This slot will go away if you remove that Marketplace mount. This feature allows you to move Heirloom Marketplace mounts between characters, without fear of running out of space on your Mount Key Ring!
The storm is brewing; which mounts will you bring with as you enter The Darkened Sea on November 11? If you're an All-Access member, you get 10% off this expansion, and you can purchase and play it two weeks early, starting on Tuesday, October 28, 2014! What are some of the first mounts you will add to your new Mount Key Ring?