Are your bags tearing at the seams? Are you constantly shuffling items around to make room for more weapons, clothing, or furniture? Well, we have some great news. Big Bags are returning to the Marketplace!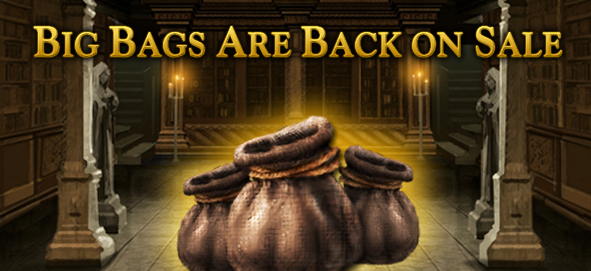 Starting Thursday, December 11, 2014 and running until Sunday, January 4, 2015 at 11:59PM Pacific, players will have access to the biggest bags available in the Marketplace. These bags are only available for a limited time, so don't miss this opportunity to upgrade your storage space for the holidays!
Adventurers can choose from:
Traveler's Rucksack (24 slots) for 1500 SC
Journeyman's Rucksack (28 slots) for 1800 SC
Journeyman's Pocketed Rucksack (32 slots) for 2200 SC
Wayfarer's Pocketed Rucksack (36 slots) for 2500 SC
Get additional discounts when you purchase these in bundles of two or four bags at a time!
What's in your rucksack?