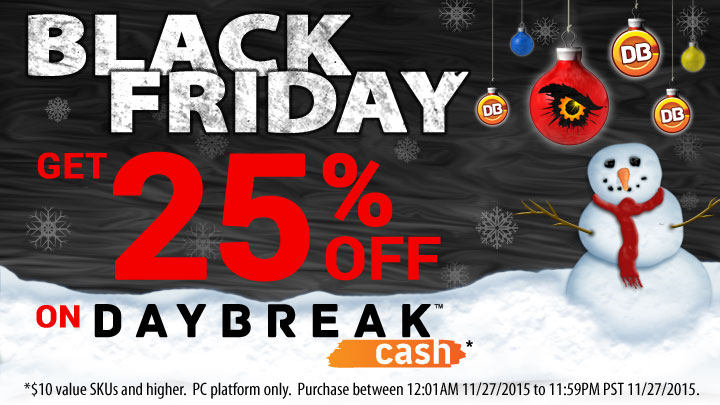 We're starting Thanksgiving celebrations here at Daybreak, and one of the things we're thankful for this year is you! To celebrate, we're offering 25% off when you buy 1,000 ($10.00 US) DBC or more direct from the website on Black Friday!
From 12:01AM through 11:59PM PST on Friday, November 27th, when you go to purchase 1,000 DBC to 10,000 DBC from our website, you will get 25% off your purchase! It takes three simple steps:
Step 1: Log in to the website at www.daybreakgames.com/daybreakcash
Step 2: Pick a denomination from 1,000DBC to 10,000 DBC
Step 3: Save 25% on your purchase, and get ready for the holiday season!
Once your Daybreak Account wallet is nice and full, make sure you check back throughout the holiday season for other great sales and promotions!
And that's not all! Returning to the EverQuest Marketplace for a limited time, it's the Legends of Norrath Loot Packs! That's right, Legend of the Oathbound, Legend of the Oathbreaker, and Legend of the Storm Break packs will all be back in the Marketplace at 50% off their original price. The packs will only be available from 12:01AM on Friday, November 27th through 11:59PM on Sunday, November 29th. If there's a piece of LON loot you've been trying to get your hands on, now is a great opportunity to pick up these packs!
Please note: the discount does not apply to 500 DBC ($5.00) purchases, nor does it apply to game cards. Daybreak Cash is usable across all Daybreak PC titles. Daybreak Cash cannot be used on the PSN.