Norrathians! Do you, like Fippy Darkpaw, never give up? Show off your tenacious attitude with this new tee in the expanded portion of the SOE J!NX store: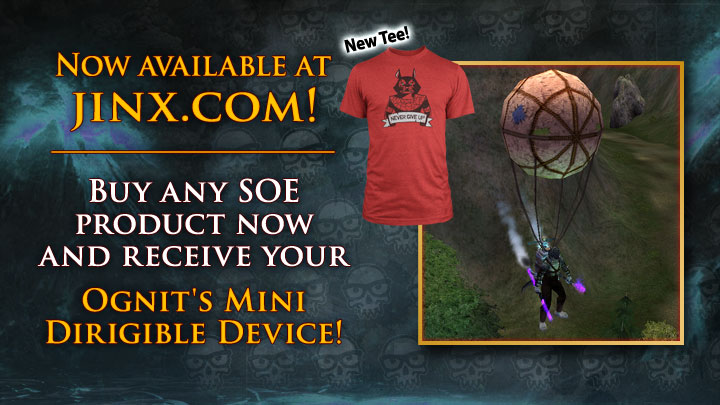 And from now through December 31, 2014*, if you buy any tee from the SOE Collection, you get a free digital item bundle! The digital item bundle includes:
Ognit's Mini Dirigible Device Mount for EverQuest
Stormwind Komodo Mount (Glider) for EverQuest II
Proximity Mine Pack for Landmark
In-Game J!NX Tee for H1Z1**
NS-11P Gun Plus J!NX Decal for PlanetSide 2
So get a head start on your holiday shopping – and don't forget to pick yourself up a gift tee or two – and head on over to the SOE J!NX store now!
*Digital item bundles are available now through December 31, 2014 or while supplies last. Digital item bundles will be delivered with your item shipment via a card with a code for the bundle. The code will be redeemed on www.soe.com.
**H1Z1 in-game item will be available upon release of H1Z1 and will require purchase of the game.