Do you remember the first time you saw Firiona Vie? The way it felt when you first heard the opening bars of the theme song? The rush of adrenaline as you traversed unknown landscapes in search of your corpse?
EverQuest has been making a profound impact on gamers since it first launched on March 16, 1999. In honor of EQ's SEVENTEENTH anniversary, we have three stories to share about what the EQ community means after all these years:
Laylaih, Communications Coordinator @ Daybreak Games:
EverQuest was the inspiration for my lifelong love of online gaming. It showed me how being a part of a passionate community can shape your entire experience, and I was completely immersed in the lore of Norrath from the get-go. Plus, it started a habit that continues to this day – my main will always be a mage!
Now that I've landed my dream job as a Communications Coordinator at Daybreak, the passion that EQ sparked so many years ago has become my career – and there's nothing better than waking up every day and getting to do what I love!
Happy 17th, EverQuest! Here's to many more.
Crystilla of Erollisi Marr:
The moment in EverQuest that has meant the most to me, was when the community on the Morell Thule server came together in a selfless act to help me finish my Cleric epic, Water Sprinkler of Nem Ankh.
At the time, one of the bosses needed to complete the Cleric epic quest was Ragefire. Ragefire spawned in Naggy's Lair after Naggy died. Eventually the EQ team moved Ragefire to Skyfire (but still on a spawn cycle) to help reduce the fighting that spawning in Naggy's lair brought forth. In January 2002, the EQ team added a way to trigger this Ragefire. With my guild help from my guild farming shards, I was lucky enough to be the SECOND Cleric on my server to spawn Ragefire in Skyfire. Unfortunately Ragefire was a stronger dragon than we anticipated, and he tore through my small family guild (Protectors of Kindred Souls) like a hot knife through butter.
Since I had bound in the zone and after our wipe I could immediately hear players shouting, "Why is Ragefire loose?"
Embarrassingly I explained to the zone that we wiped. While I expected to lose my chance to kill Ragefire that night, the next thing I knew folks from MANY different guilds, people that had never met me came into the zone to offer their help. They resurrected my guild, buffed us, and even stayed with us to defeat Ragefire.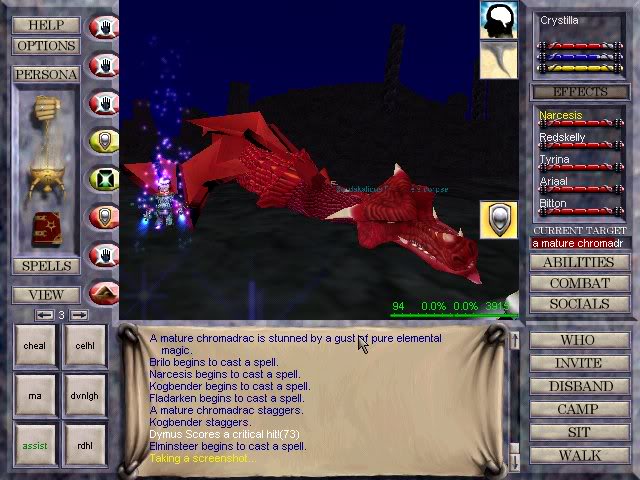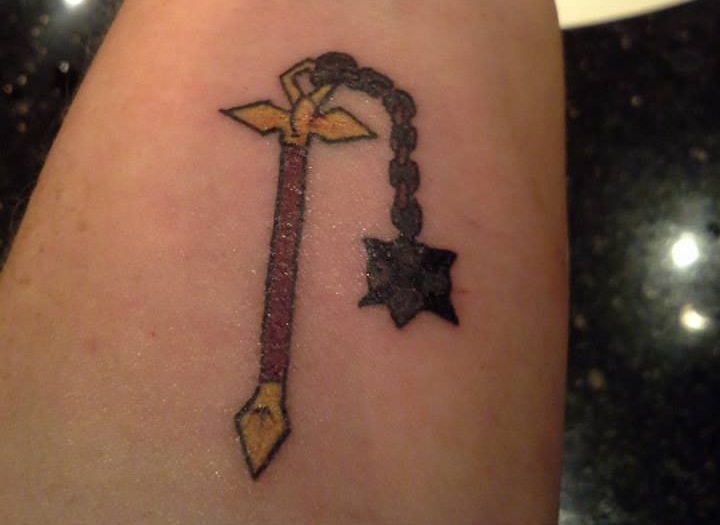 This was a defining moment in the life of my Cleric, Crystilla, and for me outside of EverQuest. In 2014 I got Water Sprinkler of Nem Ankh as a tattoo on my wrist IRL, to remind myself of the generosity of people, and our community.
Happy 17th anniversary, EverQuest.
Realm of Insanity of Xegony:
There wouldn't be enough room on the page if one were to describe what EverQuest has meant and the sentimental role that it has played since its birth in 1999. However, after a long and successful seventeen years, I think I can speak for a lot of players when I say that a sense of community, belonging, and friendship is what keeps us coming back for more year after year! These values not only keep us involved, but they are also some of the largest contributing factors to the success of the guild that I've called home for the past three years, Realm of Insanity.
While a lot can be said about each player's devotion and skill that makes such a track record possible, a lot of it traces back to the sense of community inside our walls that breeds such standout players. Over short periods of time, many of our members get to know each other on levels far deeper than the characters you see on the computer screen. Between events like Fan Faire and planning several other local and regional get-togethers throughout the year, you almost begin to feel like a part of each other's family. In many ways, EverQuest becomes nothing more than the "tool" that allows us to grow closer and closer. Over time, this close-knit sense of community allows us to become familiar with the way each other thinks, reacts, and performs when it comes time to do what we do best: raid!
When you foster such a community all under the same roof, it becomes impressive how each person wants to do well and "go the extra mile" not for themselves, but for the sake of each other. Without this unique sense of community, Realm of Insanity would not be the guild that it is today!
What does 17 years of EverQuest mean to you? Share your story on the EQ forums!