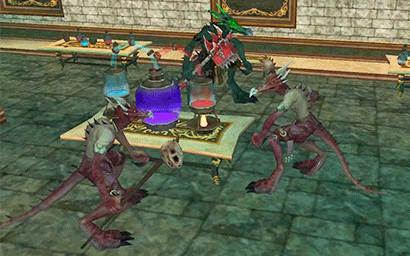 After being poisoned and narrowly escaping death, Tsaph Katta has reemerged from his stasis and finds himself more determined than ever. His time in stasis and brush with death has strengthened his resolve.
He has reformed the Combine Empire, building over its ruins on the Kunark continent and inviting those from all races to join him in creating a single peaceful and prosperous empire. Driven by a desire for diplomacy and a head full of noble ideas, Tsaph has plans for his empire to span all of Norrath. And his plans begin with expanding throughout Kunark. Tsaph, however, is not the only one trying to take control over the continent.
Many years after the fall of the Sebilisan Empire, the continent of Kunark is far from peaceful, but no single race rises too far above the others.
The Sarnak still inhabit Kunark, and they are much more powerful than they were before. The King has left Chardok, and Queen Velazul Di'zok has unified all of the Sarnak under her rule. The Sarnak no longer face internal strife and are more organized than ever.
The Sarnak Empire is experiencing a resurgence and, like Tsaph, they have their own plans for conquering Kunark. They have rallied around Atrebe Sathir. Atrebe, a master of elder magic, has not been seen since the time of the Sebilisan Empire, after an explosion destroyed his lab. Many mistook this prolonged disappearance for his death. Atrebe and the Sarnak have many motivations for wanting to control Kunark, but one thing is certain - they are more than willing to wipe out whatever (or whomever) stands in their way.
The Empires of Kunark are clashing, and many of Kunark's other inhabitants have found themselves caught in the middle of the conflict. In this relentless time of war, you'll have to do whatever it takes to secure the future of the Combine Empire.
There's more to uncover in EverQuest's 23rd Expansion: Empires of Kunark! Check out the official EverQuest website for more sneak peeks and information on this expansion. Empires of Kunark is scheduled to launch on Wednesday, November 16.
If you're an All-Access member, you get 10% off this expansion. You can pre-order EverQuest: Empires of Kunark and join us in beta now!