Get ready to spread some holiday cheer, because Frostfell is finally here!
From Monday, December 3, 2017 until the snow melts on Thursday, January 7, 2018 at 11:59 PM PT, you'll be able to take part in the festivities with a sleigh-full of wonderful wintry activities! Can't wait a moment longer? Read on for a rundown of what's planned for the holiday season.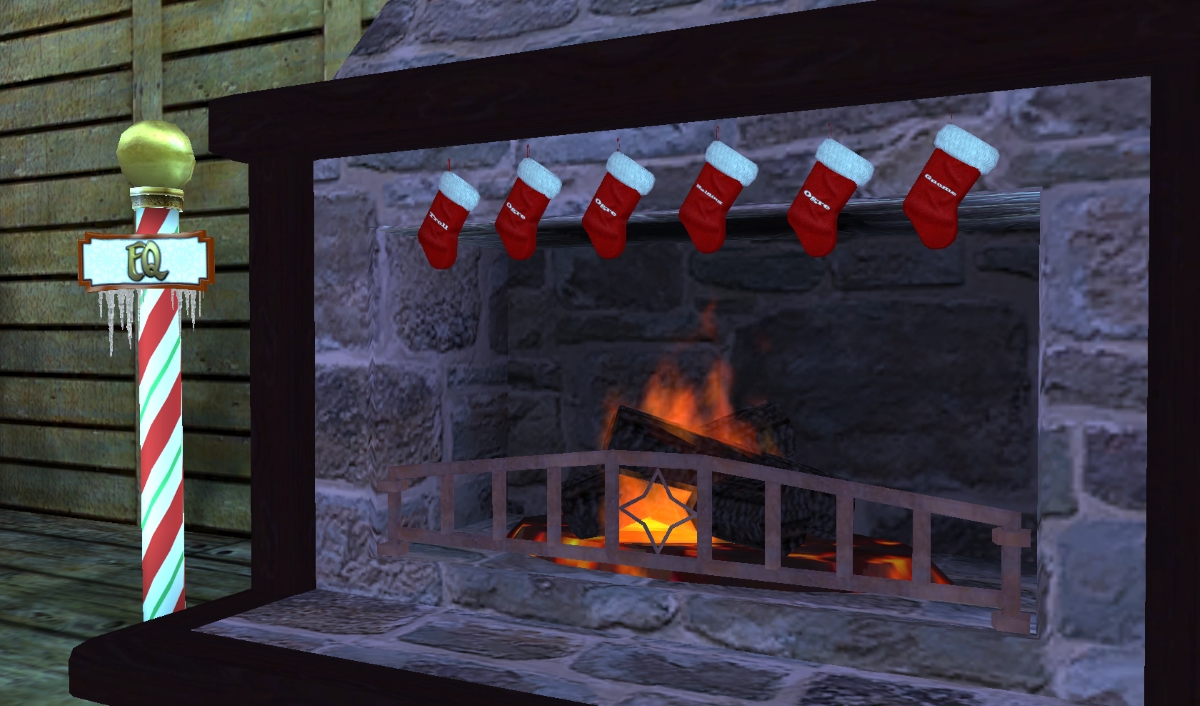 Returning Quests
The first block of Frostfell festivities begins on December 3 and runs until 11:00PM PT on December 20. To kick off your holiday fun, find the Frostfell Goblin and begin "Upgrading Stockings." After that, you'll be able to complete all of the following seasonal quests:
Frostfell - Searching for Clues (#1)
Frostfell - Saving Santug (#2)
Search for Bram Bandyboot
Rescue Hailie Biggeyes
The Freedom of Kanf Shadowhands
The Savior of Gemmi Goodkin
Misplaced Wishes
The Frostclaw Lair
Gathering Holiday Cheer
Operation: Jolliness

When the first bout of Frostfell fun comes to an end, the festivities certainly won't slow down! Starting at 12:00 AM on December 21, the second round of the Frostfell will begin. You'll have until 11:00pm PT on December 30 to complete the rest of the holiday quests, which include:
Frostfell - Santug's List (#3)
Frostfell - A Gift for Tinam (#4)
Frostfell - Fishing for a Feast (#5)
Frostfell - Baking for a Feast (#6)
Frostfell - Fireworks (#7, low, mid, and high-level)

After the questing period comes to an end, the Frostfell celebrations will continue all the way through January 7. While you galavant through Norrath, be sure to keep your eyes out for others who are in on all the fun - you're more than likely to come across a number of holiday NPCs who are out enjoying the holiday.
Santug Claugg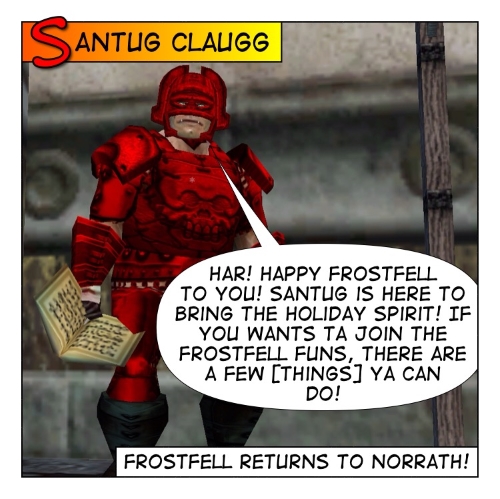 Santug Claugg is coming to Norrath, with plenty of gifts in tow! From Monday, December 24 to Wednesday, December 26, everyone's favorite red-armored ogre will be handing out gifts to all the good citizens, so be sure not to miss his special visit!
Holiday Shopping in the Marketplace!
Frostfell items have returned to the Marketplace, just in time for some holiday shopping! These fun seasonal items will only be around for a limited time, so make sure that you don't miss out.
Give a Cheer for the New Year!
Pizmip Nobbletod, Kilina Odenburg, and M.C. Tinkerton will also be returning to join in on the fun! These three will arrive in Norrath on December 26 with more events to help ring in the new year!
Frostfell only happens once a year, so be sure to partake in all the celebrations you can! Happy Frostfell, Norrathians!