by Ry "Roshen" Schueller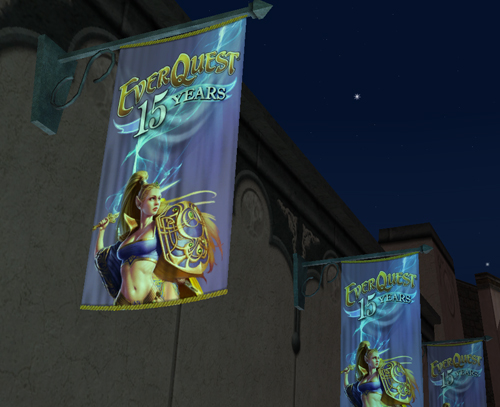 Hello Norrathians,
As we get closer to the 15th Anniversary of EverQuest on March 16, 2014, we're activating content for players to enjoy every week.
Until Wednesday, April 9, 2014, come revisit any of the anniversary content that was offered originally between 2004-2008.
What's included in this content?
Fabled Mobs
They're back! Fabled mobs are available again for a limited time.
This includes:
Original Fabled
Ruins of Kunark Fabled
Scars of Velious Fabled
Shadows of Luclin Fabled
Planes of Power Fabled
Do you want to throw down with The Fabled Quarm? Maybe you just want to cruise into Najena and defeat The Fabled Drelzna. These mobs are available in game again for a limited time.
Scavenger Hunts
Complete anniversary scavenger hunts you may have missed in previous years! For example, if you're aligned with Coldain, Claws of Veeshan or Kromzek, turn your attention to Velious once again!
That's Not All
We've just begun bringing back some of the "oldies but goodies" for you, for a limited time. Check back next Wednesday, March 5, 2014 for some additional anniversary scavenger hunts and missions that haven't been available for quite a while!