Community News - December 2013
Race and Class Combo Clash: Round Three
12-19-2013

By: Ry "Roshen" Schueller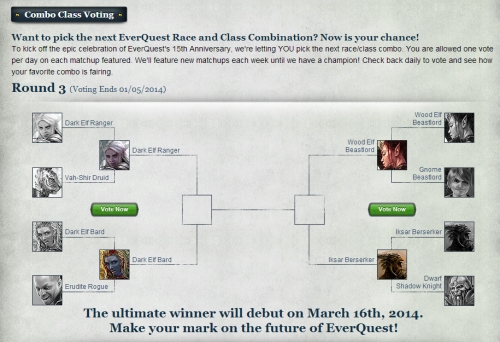 The first two rounds are complete, and the battle over which race and class combination we should add to EverQuest continues to heat up this week! This round will be a bit longer, and it will determine which race and class combinations will face off in the finals!
Which will you vote for this week?
Round One Winner Showdown: Dark Elf Ranger vs Dark Elf Bard
It's the battle of the Teir'Dal! Two Dark Elves enter this round, but only one can leave. Which of these classes is a better candidate to represent their race in the finals?
Round Two's Results!
Wood Elf Beastlord vs. Gnome Beastlord: Wood Elf Beastlord advances to the semi-finals!
Iksar Berserker verses Dwarf Shadowknight: Iksar Berserker advances to the semi-finals!
Round Two Winner Showdown: Wood Elf Beastlord versus Iksar Berserker
A single Beastlord emerged from the qualifying round to do combat with a Berserker, and your votes are these combatants' greatest asset in this battle! Which of these candidates will the community decide should advance into the finals?
Let your voice be heard! Head on over to the combo clash page to learn even more about this event and to vote on what race and class combination you want to see added to the game on EverQuest's 15th Anniversary on March 16, 2014!