Community News - December 2013
Race and Class Combo Clash: Round One Results
12-16-2013

By: Ry "Roshen" Schueller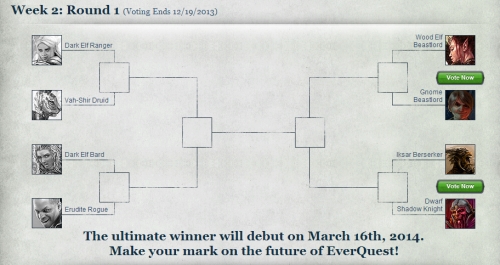 For those of you that have been following the first round of the race and class combo clash, you may have noticed a pretty big swing in the votes in quite a short period of time. After looking at this more closely, the team discovered that there was an exploit in the voting. We've nerfed the exploit (by removing the invalid votes) and now we have the true winners available from the first round of the race and class combo clash!
Dark Elf Ranger vs. Vah Shir Druid: Winner Dark Elf Ranger!
Dark Elf Bard vs. Erudite Rogue: Winner Dark Elf Bard!
Both of these Teir'Dal contestants will face-off against each other in the semi-finals.
We'd also like to request that players act a little more honestly in the next rounds of voting, and not submit more votes than an extraordinary human being would be capable of ever clicking.
Meanwhile, Round Two voting is still available. Have you voted today on the match up of Wood Elf Beastlord vs Gnome Beastlord? Perhaps you have an opinion on the showdown between Iksar Berserkers versus Dwarf Shadowknights. If you want your voice heard in the decision for the next EverQuest race and class combination, vote now!
Head on over to the combo clash page to learn even more about this event and to vote on what race and class combination you want to see added to the game on EverQuest's 15th Anniversary on March 16, 2014!