Community News - August 2014
Win Big During the EQ Tournament at SOE Live!
08-05-2014

By: Jennifer "Yaviey" Bridges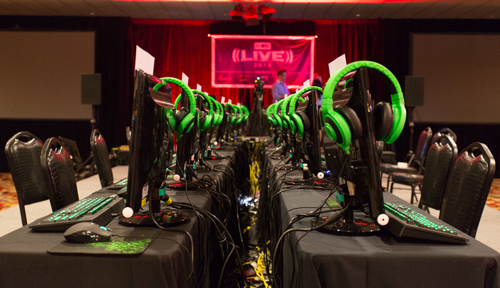 SOE Live 2014 is just around the corner. We know you're excited! And what would the party be without epic lootz?!?! We've got over $10,000 in total prizes. Does any of it have YOUR name on it?! Think about all the ale you can buy with that much gold…
Prizing
Grand Prize
$6,000 USD* ($1,000 each for the six players on the winning team)
Second Prize
$3,000 USD* ($500 each for six players on the winning team)
Third Prize
$1,500 USD* ($250 each for six players on the winning team)
Total Prizes Worth: $10,500!
*Prizing is awarded with gift cards. Please see the official rules for details, rules, and restrictions.
How to Win
This year, don't expect to pull any punches. In the 2014 SOE Live EverQuest tournament "Death, Death, Death," you'll have 40 minutes to beat up as many boss mobs as you can. The catch? You have to do it in one of our cleverly created pre-generated characters. You and your friends will team up (six players in total per group; each member of a team must be a different class) to tank and spank Norrath's cruelest baddies.
Practice Makes Perfect
This event is currently available on live servers. For the best chance to take home the top prizes, get your team together before SOE Live and practice "Death, Death, Death" with your own characters today!
Event Schedule
The destruction begins on Saturday, August 15, 2014 at 2:00 PM PDT in Planet Hollywood's Mezzanine area. Players must be signed up by 12:00 PM PDT on August 15, 2014 in order to play. For more details and official rules, visit the official SOE Live tournament forum.
Tournament registration starts at 2:00 PM PDT on August 14, 2014**. Groups can then sign up for specific time slots. Don't forget, you have to be present at SOE Live to participate. But don't worry. It's not too late! Sign up for SOE Live now at www.soe.com/soelive.
**Time of event is subject to change. The current SOE Live 2014 event schedule can be found here.