Hail, Norrathians! We are firmly in the summer season and, as many of you already know, much has happened since we last touched base. Since the April Producer's Letter, we've kicked off our Extra Life fundraising efforts along with our global Daybreak Games Super Team page, Tempest Festival kicked off with all new content, we launched the new UI engine, and our newly designed Evolving Ruleset Server, Oakwynd, went live. It feels like so much has happened in such a short span of time, but we're not even close to being done with all our plans for this year!
Before we dive into what's on the horizon, let's check out what's already happened thus far.
Completed:
And now it's time to tell you all about the great things coming up next! First, Coirnav players will be moving to a new home as the server is merged to Vox this month. Never fear, however, if you do not wish to move to Vox, you are welcome to use a free transfer to move to one of the other allowed servers prior to merge day. Stone Cold Summer will see some new content in the form of quests, a new mission, and overseer. Grab your ice-cold lemonade and join us for the fun! And last on the list, but not least, the DirectX 11 API port will be up on Test, be sure to join us there for some testing.
Upcoming:
July
August

New Quests and Mission implemented for Stone Cold Summer

September

DirectX 11 API Port on Test
In other happenings on the servers: Yelinak recently unlocked the Omens of War, and Mischief and Thornblade both unlocked the Secrets of Faydwer! We've also got the Death, Death, Death! Event coming soon. Sharpen your swords and ready your bows and staves as this is all about killing the most old-world bosses faster than anyone else on the server! Living Legacy Raids event is coming up, Whizzlebang Twempt in Steamfont Mountains will be waiting for you to begin your adventure!
Once again, Darkpaw Games, as part of Daybreak Games' Diversity, Equity, & Inclusion initiative, has pledged a donation of $5,000 to The San Diego LGBT Community Center. One of the many projects this organization works on is helping to solve the housing crisis in San Diego.
And let's not forget that we are continuing to team up with Extra Life to help improve kids' health. The official Extra Life Game Day is November 4, 2023, and we're planning some fun things and incentives for everyone, so be on the lookout for upcoming articles! Visit our Extra Life Announcement and read all about how we are part of the Daybreak Games Super Team as well as what your contribution does for children in need! Fun times, great games, excellent causes!

Yikes! I wouldn't want to meet this guy in an alley.
If memory serves me correctly, this is where I touch on the upcoming expansion. Great things are happening, and the team is working ever diligently on the lore, quests, and much more! All I can say for now is that things are not always how we remember them…or are they?
Signing off as songs of the past linger in my memories,
Jenn Chan
Head of Studio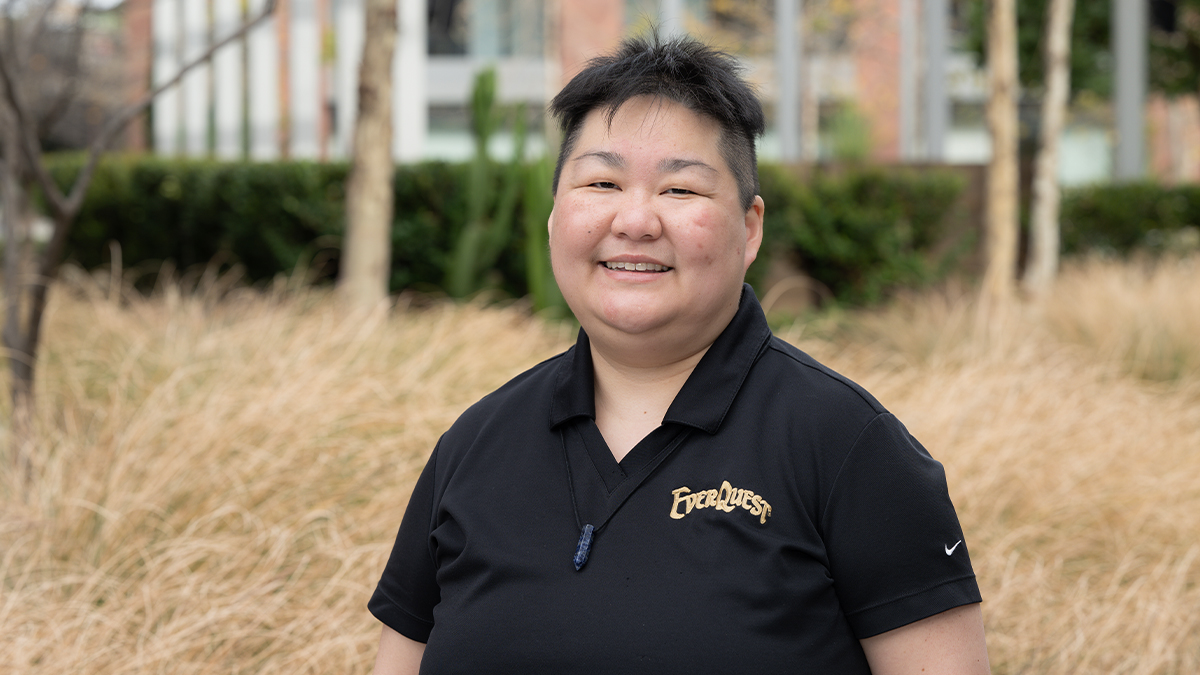 Be sure to follow us on social media: Twitter, Facebook, Instagram, and Discord.